Hello! Welcome to Tips and Tricks Link Party! So happy you decided to party along with us. As always, we have some excellent features this week and they are all food orientated. Hum. I guess we were hungry. I'm pretty excited to get them a try. How about you?
This week has been fairly quiet. That's good because sometimes I just need some down time. I kept busy, but where I usually take loads of photos, I didn't this week. We did go into the city one day to get some things to celebrate Carnival coming up next week. We are pretty excited about that, since none of us have ever experienced anything like Carnival before. Have you? If so, what are your tips?
Let's get on to the party.
Most Clicked:
French Onion Palmiers by Cooking with Carlee
Host Favorites from Last Week:
Kathleen (Fearlessly Creative Mammas) – Eight Minute Microwave Caramels by SNAP Creativity
Krysta (KrystaSteen.com) – Peanut butter Snack Balls by Tales of a Tired Mom
Cassie (Southeast by Midwest) – Philly Cheese Bread by Fluster Buster
Gabby (Not Too Shabby Gabby) – Pierogie Taco Lasagna Casserole by Just 2 Sisters
Copy & Paste the code (below) to let your readers know to come over & party with us!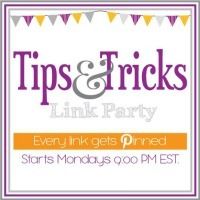 (Visited 103 times, 1 visits today)