Hello. Welcome to Tips and Tricks Link Party. I'm happy to have you visiting this week. We've got some great features this week, partially a nod to the new year and getting it together. Partially a nod to great food. I'm about the food so much of the time, so I picked food.
This past week my youngest daughter arrived for a visit and my dad and step-mom went home after a month long visit. We had a lot of fun while they were here and now I have the privilege of showing my island paradise to my daughter. Such fun times.
Please be sure to visit some of the links and share our little party with your friends.
Most Clicked:
Decluttering Prep Work by Refined Rooms
Host Favorites from Last Week:
Kathleen (Fearlessly Creative Mammas) – Turtle Love Brownies by Lou Lou Girls
Cassie (Southeast by Midwest) – Shoe Rack Tutorial by Sunshine and a Summer Breeze
Krysta (KrystaSteen.com) – Slow Cooker White Chicken Chili by Penny Pincher Jenny
 Gabby (Not Too Shabby Gabby) – Enjoy the Month You're in by Maggie Lois
Copy & Paste the code (below) to let your readers know to come over & party with us!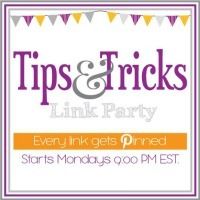 (Visited 99 times, 1 visits today)