Welcome to Tips and Tricks Link Party 100! I can't believe it's number 100, although I think it might be more than that, it's just since I took over. We're so happy that you're here and partying with us. Each week I find something new I want to try in great posts that are linked up. Sometimes a lot of somethings.
It's been a crazy week around here, full of activity. Can you believe I took a day off of touring and playing to mop my floors and it was actually something I wanted to do? I guess eventually, the fun has to slow down for a minute so you can catch up on life.  So many of you are buried in snow right now, so I almost hate to tell you I had to get them mopped because of all of the sand. It was making me crazy.
If that last sentence didn't make you hate me and you're still here, please link up your awesome posts or visit some that are being shared. Visit our features too. There are some good ones. Don't forget to share us with your friends please.
Most Clicked:
Homemade Vegetable Soup by Intelligent Domestications
Host Favorites from Last Week:
Kathleen (Fearlessly Creative Mammas) – 2017 FREE Printable Calendar  by Keeping it Real
Krysta (KrystaSteen.com) – FREE Printable Journey to Clean Planner Pages by Lambert's Lately
Cassie (Southeast by Midwest) – Gluten Free Carrot Cake by Marilyn's Treats
 Gabby (Not Too Shabby Gabby) – Baked Turtle French Toast by Marilyn's Treats
Copy & Paste the code (below) to let your readers know to come over & party with us!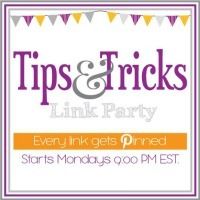 (Visited 92 times, 1 visits today)