Hi there! Welcome to Tips and Tricks Link party. How is your December going? If you celebrate Christmas, have you put your tree up yet and started decorating? We were thinking that since we are on an island, we would have a palm tree for a Christmas tree and then just give it away when we move. I went on the great search, only to discover that they are really expensive, even on an island where they grow all over the place. I went with plan B, an idea I got from Virginia Sweet Pea. I love her blog.
If you follow me on Instagram, you already saw this, but I thought I would share it here too. If you haven't already done so, enter the giveaway for a $50 Amazon gift card at the bottom of this post, after you link up!
Most Clicked:
Christmas in the Master Bedroom from Debbie Dabble
Host Favorites from Last Week:
Jessica (My Life By Jess) – Peanut Butter Cheesecake Balls from A Mama's Story
Krysta (KrystaSteen.com) – Turkey Ham and Cheese Strata from Marilyn's Treats
Kathleen (Fearlessly Creative Mammas) – 12 Cookie Recipes from Around the World from Word Traveling
Cassie (Southeast by Midwest) – How to Make a Washi Tape Christmas Wreath from Crafty Blog Stalker
 Gabby (Not Too Shabby Gabby) – 20 Christmas Cookies Santa Would Love from Crafty Blog Stalker
Copy & Paste the code (below) to let your readers know to come over & party with us!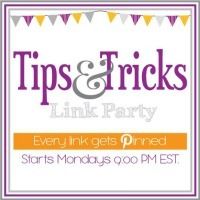 (Visited 111 times, 1 visits today)