Happy, happy Monday night to you! Welcome to Tips and Tricks Link Party! I'm so happy that you're here! Have you had a great week? Have you experiences some wonderful things? Now that Halloween is over, are you gearing up for Christmas or if you're in the Untied States, is it all about Thanksgiving now?
Last week while I was grocery shopping, I saw my first sign of Christmas. I'm so glad I haven't been looking at it since July. Don't get me wrong. I love Christmas. I just don't love to rush it. I like to enjoy the seasons as they pass.
This week we have some great features, as always. It was had to pick which one to feature, but I did it. So check out the features and then link up your posts to share with our readers. Have an excellent week. Welcome to our link party!
Most Clicked:
Holiday Gift Inventory from Refined Rooms
Host Favorites from Last Week:
Kathleen (Fearlessly Creative Mammas) – Super Saturday Crafts from Armchair Decorator
 Gabby (Not Too Shabby Gabby) – Turkey Tamale Pie from Cooking with Carlee
Jessica (My Life By Jess) – Crock Pot Cinnamon Rolls from Penny Pincher Jenny
Cassie (Southeast by Midwest) – 5 Ways to Simplify Your Morning from Drugstore Divas
Krysta (KrystaSteen.com) – Acorn Decor from Make it Easy Crafts
Copy & Paste the code (below) to let your readers know to come over & party with us!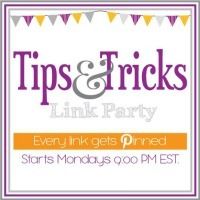 (Visited 95 times, 1 visits today)