Hello! Welcome to Tips and Tricks Link Party. Happy Thanksgiving week to my friends in the United States. Are you getting all ready? I've been searching for a turkey here in Martinique, but so far, no luck. I think it will be chicken this year. Personally, I'm all about the sides, so it's no big deal to me either way. However, meat is the main event for my husband.
I've got two giveaways on the blog right now and I'd love you to click over and enter them both. One is for a great prize pack with an Amazon gift card, a coupon for some excellent Hope Hummus and an amazing spice box from Raw Spice Bar. You can enter it HERE. (please do, it ends Friday 11/25)
The other giveaway is for 4 tickets to see The Forgotten Carols. I've never seen this, but I've heard it is really fantastic. They are celebrating their 25th anniversary! You can enter that giveaway HERE.
Now, let's get to the party! Link up your great posts, share with your friends and visit some other links!
Most Clicked:
Football Party Ideas and Crock Pot Lemon Pepper Wings Recipe from Intelligent Domestications
Host Favorites from Last Week:
Cassie (Southeast by Midwest) – Homemade Liquid Castle Soap from County Mouse City Spouse
Krysta (KrystaSteen.com) – 30 Day Christmas Countdown Bible Study from Your Vibrant Family
Kathleen (Fearlessly Creative Mammas) – Personalized Water Bottle Holder from Simple Practical Beautiful
Jessica (My Life By Jess) – Triple Layer Pumpkin Cheesecake Pie from Marilyn's Treats
 Gabby (Not Too Shabby Gabby) – Pumpkin Shaped Dinner Rolls from Margaret's Morsels
Copy & Paste the code (below) to let your readers know to come over & party with us!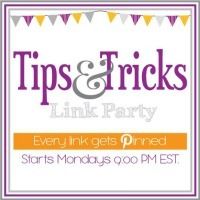 (Visited 72 times, 1 visits today)