Hello! Welcome to Tips and Tricks Link Party! I'm so happy you're here. How are you spending your Halloween? Maybe you're already done and the kids are raiding the candy. Good luck to you and really, good luck to teachers all over the United States on Tuesday. I kind of think Tuesday should be a holiday, just to take pity on the teachers.
Here in Martinique, they do not celebrate Halloween like we do in the States. There are no costumes in the stores and not one bag of Halloween candy. No decorations either. It's a little weird. I hope my daughter was able to find me a bag of candy corn.
The week's party has some great features from last week. I'm all over that Stuffed Chicken Parmesan from Lou Lou Girls. Pretty sure we will be eating it this week.
Most Clicked:
Breakfast Power Bowl from Courtney's Cookbook
Host Favorites from Last Week:
Krysta (KrystaSteen.com) – Yarn Ball Wreath from Palmettos and Pigtails
Kathleen (Fearlessly Creative Mammas) – Stuffed Chicken Parmesan from Lou Lou Girls
Cassie (Southeast by Midwest) – Cinnamon Bun Smoothie from Courtney's Cookbook
 Gabby (Not Too Shabby Gabby) – 4 Must Have Blogging Resources from Refined Rooms
Jessica (My Life By Jess) – The Great Pie Roundup from Dreaming of Leaving
Copy & Paste the code (below) to let your readers know to come over & party with us!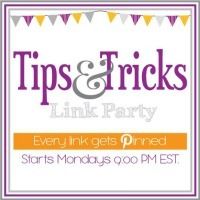 (Visited 97 times, 1 visits today)