Tips and Tricks Link Party
Hello and welcome to Tips and Tricks Link Party. I think most everyone is in school by now. Are you finding it brings unwanted chaos into your life? I miss my kids while I'm out of Idaho, but I don't miss trying to get them out of bed or to do their homework. That is some hard work some days. When my daughter was in the 8th and 9th grade, she had to catch the bus at 6:30 every morning, to start school at 8. That was horrible. I guess that is the price you pay to live in the country.
We have some really great features this week. My oldest grandson decided he wants to train for the kid version of American Ninja Warrior and made himself a schedule of exercises to do. He's only eight, so he has some time yet, but it made my pick for a favorite easy this week with the American Ninja Warrior Party. However, all of the favorites look great to me!

Most Clicked:
What Every Woman Needs to Know About Social Security from Debbie Dabble
Host Favorites from Last Week:
American Ninja Warrior Birthday Party from Mom of 6 Kathleen (Fearlessly Creative Mammas)
Peanut Butter Explosion Cookies from Love to Be in the Kitchen Krysta (KrystaSteen.com)
Crate Shelves Bathroom Organizer from The Beauty Dojo Jenny Cassie (Southeast by Midwest)
Earn Money Selling Stock Photos from Home Office Geeks Gabby (Not Too Shabby Gabby)
The Ultimate Pumpkin Recipe Round Up from Dreaming of leaving Jessica (My Life By Jess)
Copy & Paste the code (below) to let your readers know to come over & party with us!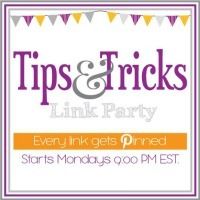 (Visited 101 times, 1 visits today)